Frequently Asked Questions
How Does It Really Work?
"Over 16 Billion Dollars of Electricity is unusable energy, but billable in the U.S"

– US Dept. of Energy
Motors by their very design are inefficient when demanding power from your energy grid.  This is why air conditioner and refrigeration manufacturers have started building this technology into their systems and are able to charge you thousands of dollars more.
But, even by building the product into their units, it still doesn't handle the individual customer's inefficient electrical system setup.  We have tested our product to high efficient air conditioners and were still able to lower their energy usage 10%.  And these results were on the MOST EXPENSIVE unit in a brand new home!  The property owner couldn't believe his eyes.
By installing this device to your property, you can handle the inefficiencies directly for your property.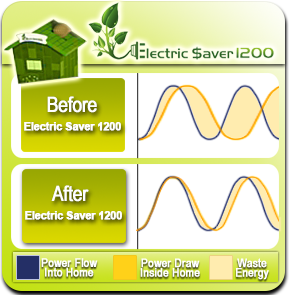 Motors in your home (such as your Central Air Conditioner, Heat Pump or Pool Pump) are currently wasting energy.  This means you are already paying the power company more of your hard earned dollars than you need to EVERY month!  You can put a stop to this today.
By capturing and recycling (otherwise lost energy/watts) and releasing it back to your motor when needed, you can dramatically lower your energy bills.  This recycling process reduces the amount of heat on the wires and the motors in your home. Reducing this heat (kilowatts) will lower your electricity bill and lengthen the life of the motors in your home.
Every property in the USA currently has some of the following inductive motors that can be made more energy efficient without paying out the nose for a new system/appliance.
These include, but are not limited to: Central Air Conditioner, Heat Pump, Pool Pump, Refrigerator, Freezer, Washer, Dryer, Ceiling Fans ,T-12 Fluorescent Lighting Ballast, etc.
Commercial Properties pay thousands of dollars every month on energy costs for refrigeration, air conditioning, and expensive motor driven equipment.  Imagine the savings you can bring to these businesses.  By helping them reduce operating costs, you boost the economy.  As they are able to operate more successfully, they can expand and create more jobs, as well as provide a better product or service to our society.
Utility companies have been using this technology to make their energy grids more efficient for decades. The Electric Saver 1200 uses this very same technology. By recycling the otherwise wasted energy on your property back to your motors/appliances, you have less kilowatt usage from your power company, which means LOWER ELECTRICITY BILLS for you!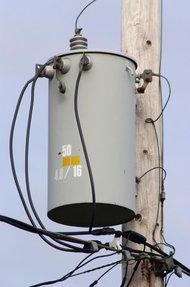 Transformer
This is an inductive load on the energy grid similar to the motors/appliances on your property (whether it's a home or business).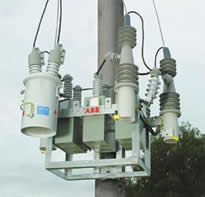 High Voltage Pole Mount Capacitor Bank
This is what your power company is using to make their grids more efficient so they can increase profits and service more customers using the same equipment. With the Electric Saver 1200, you can reduce demand and legally lower electricity bills simply by making the motors/appliance in your home or business more energy efficient.
Your electric company has been using this technology for decades to make their systems more energy efficient. Why would your power company spend tens of thousands of dollars adding this technology to their grids if this method doesn't work?
BECAUSE THIS TECHNOLOGY DOES WORK!
Don't take my word for it, though.  Look around your city/neighborhood at the power poles, for approximate every 50 transformers, you will notice this technology being used.
Is the Electric Saver 1200 UL Listed and CuL listed?
Yes, our products have all been thoroughly safety tested and meet the safety requirements by UL.  In fact, our facility is randomly inspected several times a year to ensure you are receiving top notch safe equipment. Our UL & CuL file number is listed directly on UL's website here: U.S.A. / Canada
Does your equipment have Product Liability Insurance?
Yes, we as the product manufacturer carry a $2M dollar policy to protect you and your loved ones.
Why is the Electric Saver 1200 much more Budget Friendly Compared to Other Brands?
We are a family owned and operated business proudly manufacturing quality MADE IN USA products here in Okeechobee, FL.  We pass along the savings to you. Our mission is to provide an affordable Electric Saver 1200 to every family worldwide to improve your way of life.  We at Electric Saver 1200 are here to help you lower your energy bills.
Will the Electric Saver 1200 work in my country?
Yes, our residential units work on 50 & 60 Hz for all voltages worldwide up to 240v.  Works on 110, 220, or 240v worldwide. No conversion to the product is needed. Click the Buy It Now button and your unit will be shipped out right away.
Does the Electric Saver Operate Properly if I have Solar?
Yes, this product helps your property's motors become more energy efficient, this includes any power inverters you have on your solar system. When your motors/appliances/equipment (A/C, Heat Pump, Washer/Dryer, Refrigerator, Freezers, Water Pumps, etc.) are more efficient, they will require less energy.  This will help your solar panel system be able to provide more benefits for you and your property. If you are selling electricity back to the utility provider, this will truly put more money in your pocket.
How Many Electric Savers do I Need?
Usually, a home needs 1 unit.  Average homes across the USA (2000 square feet or less) need 1-Electric Saver 1200.  The Electric Saver 1200 works up to 200 amps.  If you are unsure, check your panel box.  If your main breaker is 200 amps or less, you will need only 1 unit.
If you have a large property with multiple air conditioners, pool pumps, elevators, motor driven equipment, etc. call us, we can help you find what is best for your particular property.
– Electricity Bill Savings up to 25%, sometimes more if you have older inefficient equipment/wiring!

– Installs in 20 minutes to an electric panel or directly to a motor (Instructions included for both options)

– Includes 20 Year Warranty

– Installation Instructions & Pictured Wiring Diagram Included.

– Proudly Manufactured in Okeechobee, FL- We proudly stamp Made in USA on every unit we build.

– 1 year Money Back 100% Satisfaction Guarantee so you have NOTHING to lose!
How long does the Electric Saver take to install?
It takes approximately 20 minutes to install. Click Here to view the Installation Instructions


I don't have a Credit Card, Can I Order Through the Mail?
Absolutely, we accept checks & money orders. Click Here & Print Out to Mail in Your Order Form.

Mail Payment to:
Hough Industries Inc.
10185 NE 22 St.
Okeechobee, FL 34974 
Please be sure to include your name & address legibly to we can ship out your unit right away.  If sending check, please allow 5 business days for the bank to clear your check.
How long is the Warranty on the Electric Saver Device?
Our warranty is for 20 years.  Should your product stop working, all you need to do is return it to us.  We will fix or replace it and send it back to you.  The product has a lifetime of 20-25 years so we stand behind our products throughout their life. 
To ship your product back for warranty, send to:
Hough Industries Inc. – Attn. Warranty Dept. 
10185 NE 22 St. Okeechobee, FL 34974
Please be sure to include your return address legibly inside the package so we can ship back to you right away.