Power Factor Correction Products: (Models 3200 3400)
for Business/Commercial Properties Needing PFC Equipment
(Properties with 3 phase electrical systems)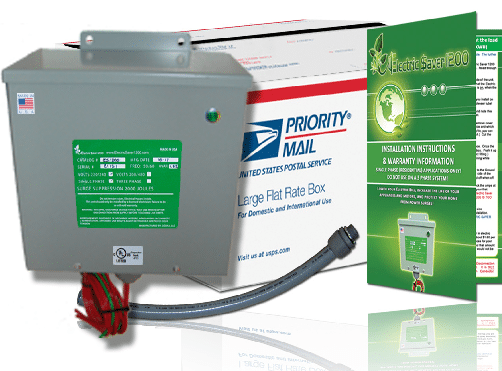 This is THE BEST commercial 3 phase energy saving equipment on the market.
Three Phase / (3) phase units are for properties with 3 phase electricity such as:
– Stores
– Restaurants
– Offices
– Factories
– Or Any Property with 3 phase Electric
Includes 20 year warranty Card, Installation Instructions with Wiring Diagram
Includes Flex Hose with fitting.
FREE UPS Ground Shipping in USA.
Receive your order FAST! We Ship all orders within 24 hours of payment receipt Monday-Friday so there's no waiting time.
UL listed for USA & Canada. Safety Tested and Randomly Inspected to ensure you receive the best quality products. Link: (USA) / (Canada)
Dimensions: 10x10x6
Works on 3 phase 480 v system
Order Our Commercial PFC Correction Banks Below!
200 AMP: $799 with FREE UPS
Ground shipping
400 AMP: $999 with FREE UPS
Ground shipping
Want it faster? Upgrade to Priority Mail
(2-4 day delivery)
Want it faster? Upgrade to Priority Mail
(2-4 day delivery)
International Orders
Please email us for shipping quote.
Power Factor Correction has been proven to save on electricity costs for anyone using motor driven equipment. This includes business owners as well. Things pfc equipment can help include: Air Conditioning & Heat Pumps, Refrigeration, Elevators, Escalators, Washers/Dryers, Florescent Lighting, or any other motor driven tool/appliance/equipment your property uses. 3rd party Tested and proven by: New York Energy Authority, GE, US Dept. of Energy, NASA, and others.
The use of power factor capacitors is getting more and more common. In fact, some A/C manufacturers are including this technology in their products. The newest HVAC systems have capacitor banks installed inside their equipment and charge thousands of dollars to the consumer for purchasing the highest energy efficient models. However upon testing, installing our products has given the customer ADDITIONAL savings (even with the highest SEER Model). So although the A/C manufacturers thinking is in the right place for more energy efficiency, their method isn't 100% workable. Installing our products on site to dedicated applications gives the business owner the best kilowatt savings possible, protects the motors from power surges AND makes their air conditioning/heat pumps and other motor driven appliances/equipment run more efficiently, cooler, and provides longer life by doing so.
Purchase Your Commercial PFC Equipment Above Today!